This in-depth interview is from Pop Culture Press issue 65. It includes some great photos of Emma and Lisa around London.
---
An Interview with SING-SING
by Rachel Staggs
2006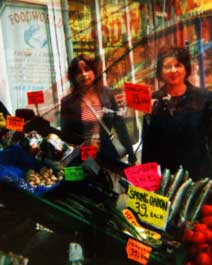 If you haven't heard about SING-SING already, you soon will. MANIFESTO RECORDS was smart enough to pick up the band's first release, titled THE JOY OF SING-SING, and put it out domestically. SING-SING showcased in New York City during the CMJ Music Festival in 2000 and played to an eager crowd filled with those who came to see Emma Anderson from LUSH and those who were already aware of the joy of SING-SING. In 2002 they put together a short US tour that ended with a showcase in Austin during the SXSW Music Festival. I have had the opportunity to see SING-SING live several times, as well as perform in a band that opened for them on two of their US tour dates. These ladies are creative, talented, friendly and ready to share their danceable, hypnotic, dream-pop tunes with America. We chatted via email and they sent over photos of their favorite haunts in Kilburn and Cricklewood, London, England.

Without a record deal in North America, how did you go about putting together the tour that culminated with your appearance at this year's South By Southwest Music Festival in Austin, Texas?

Emma: Well, we have an agent and a manager so it was no problem getting some gigs. I think the fact I was in Lush helped a great deal - certainly with getting well-paid gigs in LA and SF. The tour wasn't very long (only 2 and a half weeks) so we did all the organizing ourselves and as the travelling party consisted only of us (and Jimmy, who used to work for Lush, for a part of it) so we could all fit in a people carrier. It was fun but a lot of work and I wouldn't do it again like that! Too much stress!

How did Sing-Sing and Manifesto Records meet?

Emma: Jo Lenardi, our manager, knows Evan who runs the label. She sent him a CD and he loved it so it went from there.I read that the two of you started your own label called Aerial Records a few years ago.

Is this something you are still working on?

Emma: Actually, Aerial Records was just an imprint we had when we were signed to Sanctuary Records over here. It was just a name and a logo. When we signed the licensing deal with Poptones we asked if we could use the Aerial name and logo alongside the Poptones one but they weren't into it. That was the end of Aerial really! But it wasn't a label per se - just something to print on a record sleeve!

How many recording sessions took place to create 'The Joy of Sing-Sing'?

Emma: A lot! The album was made over quite a long period of time due to lack of money so there were many sessions both in the recording phase in Mark van Hoen's, our then producer's, studio and at Trident, Nomis and the Townhouse where we mixed it. I couldn't tell you how many sessions there were but it seemed to go on a long time. Worth it, I hope!
The album was definitely worth all the work. There are so many textures and layers to explore.

How did you finally decide the album was complete?

Lisa: The million dollar question for any artist is, 'When do I stop?'. So many albums are overworked, and this usually comes from having too much time and money on your hands, a problem that has never afflicted Sing-Sing!

Emma, did you seek out the opportunity to work with women musically, or has it just happened that way?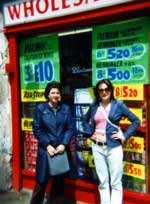 Emma: Well, with Lush - it's just that Miki and I were school friends and we followed our teenage dream of wanting to be in a band - no great masterplan or agenda - so no. With Sing-Sing I had written a bunch of songs before meeting anyone else with whom I ended up playing but I guess the lyrics of the songs were more suited to a female perspective so that dictated getting a female singer. But I like to work with both sexes. It's funny because when you tell people like taxi drivers that you are in a band a lot of the time you get, 'Is it all girls?' and I find that a weird reaction! Why should it be??! I don't really think about the gender issue much.

Lisa, how did you become interested in creating music and come to work with Mark Van Hoen and The Mad Professor?
Lisa: I started singing because I was a bored teenager with nothing to do and thought joining a band would keep me out of crap Welsh discos. It did and my second band followed me to London in '93 I think it was. We started making demos, one of which ended up in Mark Van Hoen's hands just as he was completing 'Morning Light'. It was too late for me to contribute to that album fully so we wrote a track together, which became a hidden track on the Japanese release. That's what Emma heard. It's amazing the little twists and turns that happen; one cog out of place and I may never have met Emma at all. The Mad Professor thing came via Sing-Sing too - via Joely who was to be the other Sing-Sing singer. We started a little project with him that ran concurrently with making "The Joy of...". There is in fact an album of 'lovers rock' songs out there if anyone wants to do some research and find it, but I'll give no more clues because I'm vaguely embarrassed by it, to be honest.
How long was it after you first met that you realized you wanted to combine your talents?
Lisa: Immediately really. I think we met once without knowing anything about each other, 'strangers in the night' style, but the next time we met was in September Sound studio on the Thames in Twickenham, where I demo-ed for Emma.
Emma: I had heard the hidden track on the 'Morning Light' album by Locust (a.k.a. Marc van Hoen who ended up producing the Sing-Sing album) and thought it was great. I had met Lisa but only as the girlfriend of my then boyfriend's flatmate but when I met her in a different capacity -i.e. a potential musical cohort - I realised she was serious about it and we did seem to click pretty much straight away. P.S. my copy of 'Morning Light' wasn't Japanese - it was the limited edition British rlease!
I noticed Mark Van Hoen plays several instruments on the album. Did you come to him with your ideas for synth and drum sounds?
Lisa: A bit of both. Emma and I would write the songs as whole entities then we'd all sit together in the studio and add the icing. I worked out a lot of the synth solos and he'd get more involved in the keyboard programming, getting unusual vintage sounds out of them and the drum programming is almost all Mark. I think its fair to say that there's a lot of Mark in the
album so it's a shame we aren't working with him again.
Emma: Working with Mark was a learning experience for both us and him. With regard to me especially he had never really worked with someone that had written WHOLE songs before (chords progressions, basslines etc) and at first he found that quite difficult and restrictive. I had to learn to let go of some of what I had written (e.g. the basslines!) and let him change things which was weird for me and he had to learn how to adapt to being a producer and not an artist which wasn't that easy for him either. I think the result proved satisfactory though.

I've seen a few of your American shows over the past two years, I'm curious as to what the gigs in London are like for Sing-Sing.
Lisa: We have a lot of regular fans and more friends in the audience obviously, but the crowds are always up for it and appreciative. However they don't bring us flowers and wave cardboard hearts at us like they do in the States, more's the pity!
Have the two of you started working on a follow up to 'The Joy of Sing-Sing'? I imagine a lot of time has passed since you wrote the songs on that album.
Lisa: Yes, but only recently; it took so much energy to release "The Joy.." because we were without any kind of business help, and I think that sapped any creative energy to write new songs. Now its all sorted and we have a manager and American label looking after things, we are freed up to write which is how it should be - I can't wait to see what it'll sound like. Emma and I both have different situations now; a lot of things have changed since we wrote the other songs.
Emma: We had quite a lot of problems getting this album released in the UK and that really affected me. I couldn't write songs for ages because I was thinking, 'If no one is going to hear this album what's the point of writing another one?' I was quite depressed about it, to be honest. But now, as Lisa says, we have a North American label, manager etc. in place (and the option to make another record with the same label) I feel a lot more inspired and have a lot of ideas. I hope when we tour in the autumn we will be playing at least 3 new songs.
You mentioned to me that the part of London you live in is a bit out of the way. Let's discuss the photos you sent over of some of your favorite places.
Lisa: Emma and I live near each other in a quite obscure area of London - Kilburn and Cricklewood - not many people go there.
I noticed in two of the photos you are underneath signs boasting South Indian food. Do you both enjoy South Indian cuisine?
Lisa: Oh yes, Indian food in general. It's to us what Mexican food is to you and the humble 'chicken korma' was recently voted as the nation's favourite dish. Do you like Indian cuisine? I didn't notice any Indian restaurants in the States sadly.
Emma: Yes, it's a bit different to the normal Indian which is kormas, biryanis etc. South Indian is more vegetarian/fish and the pancakes, which are called 'dosas', are a speciality.(It was chicken tikka masala that was voted the UK's favourite dish but it's not South Indian or even Indian - it was invented for the British palate, apparently!).I like Indian food, but restaurants do seem difficult to locate in the States unless you find locals who can tell you where to go.
What is your favorite menu item at Geeta Restaurant?
Lisa: Geeta's is one of the oldest Indians in London - very simple and a bit scruffy. It's run by this lovely, elderly Indian woman who floats about in a red sari. The food is so delicious. My fave is the sag paneer. Sag is spinach and paneer is a type of Indian cheese; almost like feta but milder. They also do these great pancakes called iddli sambar. They come with a weird, sour coconut dip. Please go there if you come over. I've done extensive research and it's the best one in London.
Emma: Green banana and coconut is my favourite in Geeta's and my favourite in Vijay's is a green bean and coconut dish. Yes, I like coconut.
What is your favorite pub and why?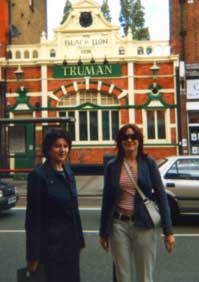 Lisa: The Salusbury, not officially in Kilburn but a few roads over in the very middle-class Queen's Park. You can get French cider in there; my preferred tipple. We took a photo outside The Black Lion because it's one of the most untouched Victorian pubs in the city.
Emma: I am not really a pub person but I quite like the William IV in Kensal Rise - it does great food.
What is the Jubilee (see photo)?
Lisa: Good Lord, it's when we celebrate the anniversary of the Queen's coronation, of course! One of the only times, apart from during The World Cup*, that you see the British getting patriotic. I loved it - lots of Union Jacks everywhere, village and street parties. We love a bit of servitude over here...
*The World Cup is when the best football (soccer to you) teams in the world play in a huge tournament every four years. This year it was held in Japan/South Korea. England did OK but the USA did very well. You were beaten unfairly by the Germans, though.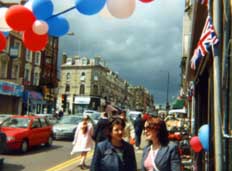 Emma: The Jubilee? Every 25, 50, 75 etc years the state throws a big celebration to recognise the reigning monarch's time on the throne. I am not really a royalist so don't really get into it. The best thing about this year's one (50 years) was the pop concert held in the gardens of Buckingham Palace with the whole of the Royal family in attendance. Among the performers were Ozzy Osbourne (yes, really!), Rod Stewart, Brian Wilson but the most Spinal Tap moment was Brian May of Queen playing 'God Save the Queen' on the roof of the Palace - all excruciating guitar solo grimaces and long, curly hair being blown about in the wind. Bizarre. ('Jubilee' was also a seminal, low-budget, art-school film made by Derek Jarman in 1977 to commemorate the Queen's silver Jubilee/punk rock/decline of Western Civilisation (type stuff)).
What is the Tricycle Theatre like? The street sign is quite whimsical!
Lisa: It's an art-house cinema and theatre with an art gallery. They play lots of foreign titles and, incidentally, do the best steak and chips in London (the restaurant is French owned). Kilburn is a real hotbed of international cuisine!
Emma: I haven't seen a play at the theatre but the cinema is great. I love local cinemas - they always show crappy ads for local restaurants and stuff. Very entertaining.Where are some of your favorite places to shop for clothing or shoes?
Lisa: There's quite a good cheap shop called Benny D's for underwear. I've got to say though that Kilburn isn't really the best place for clothes unless you like gold lamé catsuits and once you've got one...
Emma: I have never bought clothes in Kilburn or Cricklewood, where I live, but my favourite shops in London are (if I am feeling poor) Top Shop in Oxford Circus and (if I am feeling rich) Agnès B, which is a French chain.
What music are you listening to these days?
Lisa: At this exact moment I'm listening to 'Innervisions' by Stevie Wonder but there's a great new band out called The Bees, in the vein of The Beta Band - probably only available to you on import.
Emma: I really like Ladytron and The Czars, at the moment